Hotel Introduction
Situated in Yuanshan Township, Yilan County, Aleex Villa is the perfect place to experience Yilan and its surroundings. The hotel is not too far from the city center: just 5.1 km away, and it normally takes about 120 minutes to reach the Taoyuan airport. With its convenient location, the hotel offers easy access to the city's must-see destinations.Aleex Villa also offers many facilities to enrich your stay in Yilan. The hotel provides free Wi-Fi in all rooms, luggage storage, Wi-Fi in public areas, car park, family room to ensure our guests the greatest comfort. Hotel accommodations have been carefully appointed to the highest degree of comfort and convenience. In some of the rooms, guests can find internet access – wireless (complimentary), non smoking rooms, air conditioning, heating, balcony/terrace. The hotel's pool (kids), garden are ideal places to relax and unwind after a busy day. Aleex Villa is your one-stop destination for quality hotel accommodations in Yilan.
Tel:03-9220000
Hotel Address:No.380, Huimin Rd., Yuanshan Township, Yilan County 264, Taiwan (R.O.C.)
Room Introduction
All the guest rooms are equipped with their own bathroom (bathtub/shower, hairdryer, bathroom amenities), Inverter Split Air Conditioner, flat screen TV, Refrigerator, Desk, Telephone, Safety Deposit Box, Coffee & Tea, Kettle, Mineral Water and free Wi-Fi.
Leisure Facilities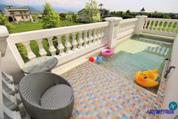 Free Wi-Fi in all public area, mini swimming pool for children, free rental bikes, balcony
Restaurants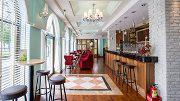 Daily Complimentary Western or Chinese style breakfast and Afternoon Tea Served at the Aleex Cafe at the ground floor.
Peripheral Scenes
Attraction nearby: Yuanshan Park, Luodong Sports Park, Milan Sports Park, Ko Da Sheep Farm, Fushan Botanical Garden, King Car Whiskey Distillery, King Car Lanhua Park, Shuanglianpi, Bee Farm, Yulan Tea Garden.etc.
Directions
◎By Train: Please take train to Yilan Train Station and come to Aleex Villa by Taxi or our shuttle service (please book 3 days before your arrival).◎By Bus: Please take bus to Yilan Bus Station and come to Aleex Villa by Taxi or our free shuttle service (please book 3 days before your arrival).◎Shuttle service schedule: departure from Yilan Train/Bus Stn. 14:00 16:00 departure from Aleex Villa 11:30 13:30